Shiloah Coley was the first student do to the Play Africa-Madison Children's Museum collaborative internship through IIP in 2018.
By Scott Girard
Shiloah Coley remembers the first time she saw Madison on a visit to the University of Wisconsin campus from her home on the south side of Chicago.
"So we're driving and I'm looking out the window and I'm like, 'Mom, where's the city?' And she's like, 'I think this is it,'" Coley recalled. "For me, I wanted to go to school in a major city."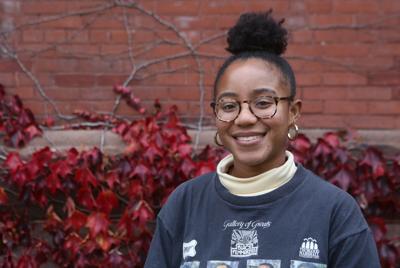 Soon enough, Madison had made it to the top of her college list — mostly by process of elimination of other schools — and as she settles into her senior year, she's appreciated being pushed out of her comfort zone here. Her tenure has included studying abroad in Brazil, working on a project with the Madison Children's Museum that took her to South Africa, displaying a project at the Metropolitan Museum of Art in New York and receiving a prestigious Truman Scholarship, which gives her $30,000 toward a graduate degree along with research and leadership development training.
"I've had so many opportunities made available to me here that I've had the chance to take advantage of," Coley said. "Being in a space that I was uncomfortable, it forced me out of my comfort zone and challenged me to be more willing to talk with people, communicate with people, speak up in the classroom, get involved in student orgs that I'm passionate about. If I'd been some place where I was comfortable, I might've been less likely to do that."
The children's museum project, in partnership with South African children's museum Play Africa, allowed Coley to tap into her love of working with kids and finding similarities between cultures. She had visitors draw pictures and write a sentence about something from their daily life, like going to school or eating dinner, and then put the projects from South Africa on display in Madison earlier this year.
That work also led her to an opportunity with the Met. Her project, conceived in South Africa and then presented at the Met's annual World Culture Day Festival, had children take pieces of art from the museum's archives and recreate them in their own image. Through that project, Coley noticed and called out the lack of diversity in the museum's archives.
Also the co-editor-in-chief of The Black Voice on campus, Coley is a journalism major with certificates in African American studies and studio art. She expects to graduate in May 2020 and eventually pursue a PhD in sociology, though she wants to take a year or two to focus on research without the school part involved.